Posts for tag: tooth decay
By NB Dental PC
October 15, 2019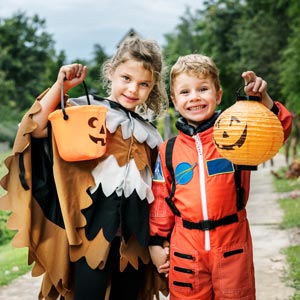 $9.1 billion: That's how much we Americans spent in 2018 on Halloween festivities, according to the National Retail Federation. And a sizeable chunk of that was for candy—a whopping 600 million pounds worth. That, my friends, is a lot of sugary goodness. For kids, it's what Halloween is all about—scoring a sack full of sticky, gooey, crunchy candy. For parents, though, all that sugar raises concerns for their kids' dental health.
That's because of something that loves sugar as much as little humans: oral bacteria. The more these microscopic creatures consume, the more they reproduce, which consequently leads to more mouth acid, a by-product of their digestion. Elevated acid levels can dissolve the mineral content in enamel and create the conditions for tooth decay.
To cut to the chase, excessive candy consumption increases the risk of tooth decay. Short of banning candy and ruining your kids' holiday fun, what then can you do to lower that risk this Halloween?
Here are a few tips:
Limit candy to mealtimes. The mouth's acid levels tend to rise while we're eating. The body counters with saliva, which has the capacity to neutralize acid and restore lost minerals to enamel. But if your kids are snacking on sweets over a long period, saliva can't get ahead of the recurring waves of acid. So, try to limit your kids' candy consumption to a few pieces at mealtimes only.
Don't brush right after eating candy. The short period during and after eating of high acid levels can still soften tooth enamel. If your child brushes soon after eating candy, they could also remove tiny bits of softened enamel. Instead, wait at least 30 minutes to an hour before brushing to allow saliva time to remineralize the enamel.
Encourage alternatives to candy as Halloween treats. While candy is a huge part of Halloween, it needn't have a monopoly on all the celebratory fun. So, encourage your little tricksters to accept—and their treaters to provide—other kinds of treats like small toys, glow sticks, or other items that count as treasure to children (be sure they're age-appropriate, though).
Halloween is a great time of family fun, and candy may always play a prominent role in the merriment. Just be sure to practice moderation with sweet Halloween treats to avoid dental problems down the road.
If you would like more information about how to manage your family's sugar consumption for optimum dental health, please contact us or schedule a consultation. To learn more, read the Dear Doctor magazine articles "The Bitter Truth About Sugar" and "Nutrition & Oral Health."
By Krause Dental Excellence
February 27, 2019
Humanity has been waging war against tooth decay for millennia — with this relentless opponent often getting the better of us.
Over the last century, however, significant treatment advances have turned the tide of battle in our favor. Perhaps the greatest of these advancements is our deeper grasp of the disease process — new understandings that have altered our treatment strategy. Rather than wait for cavities to occur and then repair the damage, we now focus on stopping the damage from occurring in the first place.
Prevention starts by reducing factors that contribute to tooth decay. We can signify these detrimental factors with the acronym BAD:
Bad Bacteria. Millions of bacteria inhabit our mouths at any one time, but only a few strains produce the acid that causes decay. We want to reduce their population by removing dental plaque (where they feed and grow) through daily brushing and flossing, and, at a minimum, semi-annual office cleanings.
Absence of Saliva. This important fluid neutralizes acid and strengthens tooth enamel. Some people, however, suffer from reduced saliva flow. We want to find the cause (for example, a side effect of certain prescription drugs) and then improve saliva flow.
Dietary Habits. A diet heavy in sugar and acid (particularly sodas and soft drinks) gives bacteria a ready food source and increases the mouth's acidic level. Chronic high acid levels in particular are often too great for normal saliva flow to overcome and neutralize. Reducing the amount and frequency of these food items creates a healthier oral environment.
Reducing BAD factors is only half of our prevention focus. We also want to promote SAFE factors that enhance tooth health and strength: Sealants, especially for children, that shield tooth surfaces from decay; Antimicrobial rinses that target and rid the mouth of acid-producing bacteria and give healthy bacteria room to develop; Fluoride, a proven enamel-strengthening chemical available in dental products, many drinking water systems and as a topical application in dental offices; and an Effective diet that's rich in nutrients and low in sugar and acid as already mentioned.
Keeping the focus on reducing BAD factors and promoting SAFE factors will greatly increase your chances of personally winning the war against tooth decay.
If you would like more information on the prevention and treatment of tooth decay, please contact us or schedule an appointment for a consultation. You can also learn more about this topic by reading the Dear Doctor magazine article "Tooth Decay: How to Assess Your Risk."
By Krause Dental Excellence
December 09, 2018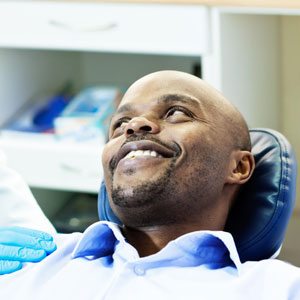 Tooth decay is as relentless as it is destructive, and it makes little distinction between age, gender, ethnicity or social status. Although risk levels vary from person to person, we're all potentially in the crossfire for this harmful disease. Getting ahead of it early could save your teeth.
Tooth decay begins with oral bacteria. While feeding on dental plaque that accumulates on the teeth, bacteria multiply and produce acid as a by-product. Too much acid softens and erodes tooth enamel, which enables decay to advance deeper into the tooth.
If it isn't stopped, decay can eventually infect and weaken the roots and bone, and ultimately lead to a lost tooth. By stopping it as early as possible before it reaches the inner pulp and root canals, we can greatly limit the damage.
Regular dental care is crucial for early detection. Here's how we can stay ahead of developing decay during dental visits.
Visible inspection. There are visible signs a trained dentist may notice that point to tooth decay. Besides an already formed hole or cavity, we might also pick up on other unusual appearances like white spot lesions: these slight blemishes often occur in the areas of contact with other teeth, which we can treat with topical fluoride.
X-rays. This tried and true diagnostic tool has been a mainstay of dental care for nearly a century. The images they produce can indicate decay as darker spots or areas on or within the tooth that may not yet be visible to the eye. And with advances in digital processing and more streamlined equipment, we can effectively do this with a very low dosage of radiation exposure.
Advanced technology. We've developed other means for better disease detection that complement x-rays and visual inspections. Specialized microscopes and lasers are now important tools for analyzing suspected areas of early decay.
Even if decay gets a foothold we can effectively stop it and restore a tooth with a root canal treatment or a similar procedure. The best outcome, though, is to not allow this destructive disease to get that far. With dedicated oral hygiene and regular dental visits that uncover early decay, chances are good your teeth can remain healthy for a lifetime.
If you would like more information on fighting tooth decay, please contact us or schedule an appointment for a consultation. You can also learn more about this topic by reading the Dear Doctor magazine article "Tooth Decay: How to Assess Your Risk."