Posts for: December, 2017
By Krause Dental Excellence
December 21, 2017
There are plenty of good reasons to quit smoking. Here's one more if you're considering replacing a missing tooth with a dental implant: smoking increases your risk of implant failure.
By and large, dental implants are the most reliable and durable tooth replacement option, with more than a 95% success rate after ten years. But that still leaves a small percentage that fail — and twice as many of those failures are in smokers than in non-smokers.
To understand why, we need to look at how smoking affects oral health. Besides burning and thickening the surface skin cells inside the mouth, inhaled smoke can also damage salivary glands and lead to dry mouth. Reduced saliva creates an environment friendly to bacteria, which increases the risk of infection and disease.
The nicotine in tobacco also restricts the myriad of blood vessels that course through the teeth and gums. The resulting reduced blood flow deprives teeth and gums not only of nutrients but disease-fighting antibodies. The mouth takes longer to heal and can't fight infection as well.
The key to an implant's success lies with its titanium post imbedded in the jaw bone to take the place of the tooth root. Titanium attracts bone cells, which grow and adhere to the post over a period of time and create a stronger hold. But the health effects of smoking inhibit this process. Furthermore, slower healing caused by smoking increases the risk of infection, the number one cause of early implant loss.
If you want to improve your chances for a successful implant — not to mention improve your overall health — you should quit smoking. The prospect of a dental implant could be a useful incentive to enroll in a smoking cessation program.
At the very least we suggest you stop smoking a week before implant surgery and then for at least two weeks after to help promote good healing. And you should pay close attention to your daily oral hygiene — brushing and flossing at least once — and regular, semi-annual dental visits for cleanings and checkups.
Smoking can harm your health. If you're considering an implant, it could also harm your chances of a successful outcome.
If you would like more information on dental implants, please contact us or schedule an appointment for a consultation. You can also learn more about this topic by reading the Dear Doctor magazine article "Dental Implants & Smoking."
By Krause Dental Excellence
December 06, 2017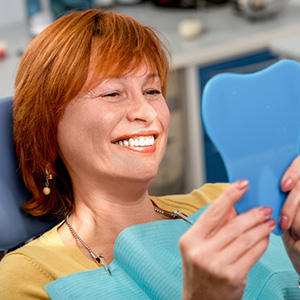 Facing extensive dental treatment can be stressful—and even more so when you realize what it will cost. It's a hard fact of life, but some dental work can be expensive.
The good news, though, is that it's possible to keep your costs at a manageable level, even with limited finances. And your best first step is to become proactive with dental care now, before problems appear or get worse.
There are good reasons for making room in your budget for regular dental cleanings and checkups: for one, dental cleanings coupled with your own daily hygiene help keep bacterial plaque, the main cause of dental disease, from causing gum disease or damage to the tooth surfaces. And seeing us regularly makes it more likely we'll detect a problem before it inflicts too much harm.
Regular visits are also important for establishing a relationship with us. As we become more familiar with you and your own individual risk factors for dental problems, we can then develop a treatment strategy to minimize those risks or take action to decrease their impact.
The latter point has direct bearing on the financial side of your care. It's tempting to postpone a recommended treatment for a mild to moderate issue because of the expense. But receiving treatment now could save you from major expense later.
Perhaps, though, you're actually facing that major expense now and the full weight of what it will cost is bearing down. Even in this situation, you may actually find there are less expensive ways to deal with the problem, at least temporarily until you can afford a more permanent solution.
For example, if you've lost a tooth or have had it extracted, you may be able to opt for a partial denture or similar less costly restoration—at least for the time being. Eventually, when you're prepared financially, you can replace it with a dental implant or another permanent restoration. In the meantime, you're able to regain a reasonable level of dental health.
The key is to invest in your teeth and gums now whatever their state of health. The efforts you make today could save you from a greater health and financial burden tomorrow.
If you would like more information on managing your dental care and its costs, please contact us or schedule an appointment for a consultation.